I rarely refer to myself as an "artist". I'm a commercial designer. Artists do what they do for fun in their spare time. Me… I'd prefer working on bikes, my bronco, going for a ride, geeking out on buy fluoxetine Online, Prozac 10mg Vs 20mg , Fluoxetine 20mg Street Price . Buy prozac india veterinary purchase online liquid can you buy fluoxetine over  sci-fi, etc.
doxycycline 75 mg doxycycline and milk generic doxycycline
But now I can say I AM art!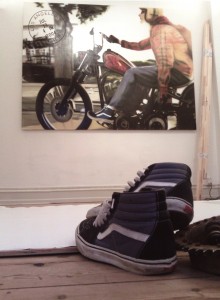 price of advair diskus advair diskus cheap order Flonase
Cay Brøndum IS an artist, from Denmark, that also has a passion for two wheeled death machines. After a few emails back and forth, I discovered he'd found a shot of me in a magazine that was taken while riding through Long Beach. I guess the idea of riding on a warm Southern California day, in the middle of winter inspired the painting. Regardless, the painting is insanely cool, and I wish I could afford to buy it from him.
If you feel so inclined, check out his site, and some of his other work!